Unfortunately, even with great eating habits and regular exercise, most people find it very hard and frustrating when it comes to reducing body fat, and losing weight. Palm Beach Pharmaceuticals is thrilled to introduce a new, proprietary compound we call "Reshape."

Reshape represents the cutting-edge of weight loss solutions for women. It stimulates the metabolism, like the best selling national brand weight loss medications, but unlike the other national brands; Reshape deals with the preservation of lean muscle mass. The primary goal of the product is to help patients achieve their weight loss goals, but also to leave them in a better metabolic state after they have finished their program.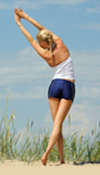 Many weight loss products offer decent results, but there is a rebound effect afterward and much of the progress is lost. This is due to the emphasis placed only on weight reduction and not on a reduction of body fat with the accompanying preservation of muscle. A patient who looses both muscle and fat is going to be in a worse metabolic situation than they were when they started and this is the primary reason for the rebound affect. "Reshape" is able to mitigate this problem and provide women with a quality, lasting solution to their weight loss goals.

In addition, we are an industry leader in the compounding of specialized weight loss formulations. We work with physicians to find a variety of solutions for a patient's unique weight loss goals. We also work closely with physicians who offer a detailed metabolic analysis and tailor a program that is just right for the individual. Metabolic stimulation and site specific fat loss are possible with our custom weight loss formulations.

MORE INFORMATION:

SOURCES:

Designate Obesity as Disease, By Steven Findlay, USATODAY
(December 2003)

F as in Fat: Trust for America's Health Report on Obesity
(August 2008)